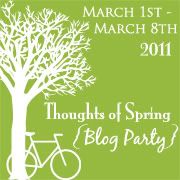 My sister (Many Paths to Tread) mentioned this to me and I thought it would be fun. No time like when there is snow on the ground to think of spring!

How would people describe your personality? (If they could only use ONE word.) Are they right?
Optimistic. I think if you look at the world through rose colored glasses you will see exactly what everyone else sees, but with a more positive perspective. At least that is what I tell myself, though I've really wondered how that works.
What celebrity/celebrities would create a "Star-Struck" feeling if you saw them in real life?
Hmmm, I might not recognize them, or have a clue that they are celebrities. In fact, it's very likely that I wouldn't.
Who is your favorite blogger? Why? Pioneer Woman. I love her cheerfulness, positive attitude, smile, the delicious looking recipes and peeks into her life on the ranch. Not to mention the documentation of her travels. I like traveling.
What is your comfort food/drink?
Tea, lots of tea. Best of course, with a little something to nibble.
Be brave – tell us something very random and weird about yourself.
I would still be crawling if I hadn't sprained my wrist when I was about 13 or 14? months. Okay, I exaggerate a little. I mean, about the still crawling. I was a late walker.
Do you have a strong desire to do something you've never done? What is it?
Publish a book.
Movies: Action, Drama, Romantic Comedy, Documentary, Comedy? What are your favorite genres?
From the list above, probably Romantic Comedy. I like Action as long as there is no blood or scary parts. :)
Books: Fiction, Non-Fiction, Romance, Biographies, True Stories, Self-Help, Devotional/Study? What are your favorite types of reading material?
Mystery – with a romantic touch. My favorites are the type where the guy saves the girl, but their romance isn't the central part. It's just a human interest touch.
Music: Funk, Rock, Country, Jazz, Classical, Film Score, Blues, Classic Rock, Crooner, Alternative, Heavy Metal, Techno? What are your favorite types?
Cheerful Classical – a very occasional country song, and an assortment of unremembered movie scores I'm sure. If I even know what that is.
If you inherited a million dollars, what is the first thing you would do with your money?
Invest it. Thank you for your time. (I would be interested in spending the interest, in case you were interested.)
Name one weakness of yours (confession is good for the soul).
One? I can't pick between them all. Procrastination?
If you could live anywhere at all (and take all your loved ones with you), where would you go?
I tried to get the family to move to the East Coast, but they didn't buy it. And I don't know if I would really want to live there anyway. I think I like it here, in the Blue Castle. I'll like it even more when it's all finished. Mostly, I like being at home, being with family.
Strange Talent? Can you juggle basketballs, put your legs behind your head or perform some other strange feat?
No, quite simply. I don't know that I have any talents at all, let alone strange.
What's something you consider yourself to be good at? (Don't worry, it's not bragging, it's acknowledging a God given gift).
As long as we're not discussing talent, and if we consider that some days are better than others, I can cook, in quantity, whether or not it is good, is something you'll have to ask somebody else. Sometimes, I think it is.
What is one of your favorite things to catch a whiff of?
Oh, dear, now I'm procrastinating. It so depends on what it is I'm catching a whiff of at the moment. If it's good, it's good. Like rain, or fall, of fresh mown grass, or a wild rose, or coffee, or spices, or fresh garlic bread, or…..I would probably have to say freshly cut grass.
When you leave a social gathering, do you wish: You would have talked more or You would have talked less?
That depends on the gathering. Sometimes yes, sometimes no. Sometimes I don't go at all.
If money wasn't a factor, what stores would you shop in?
Brooks Brothers, Nordstrom's, very exclusive stores and Costco – ever since I was young, and even when I hated shopping, I liked going to Costco. Want to know something else? I don't know that I would necessarily buy a lot of things, just very nice things.
What is your greatest fear or strange phobia?
Never mind.
What is your greatest accomplishment?
I'd like to say, "investing in my siblings," but I don't know if I accomplished anything. I mean, they're great, but I don't know that I can take any credit for it. Next question.(I almost wrote that as "I'm mean, they're great," - just try reading it that way. Now they might agree, but....)
What are your favorite animals?
Dogs. Clean dogs. Well behaved dogs. Nice dogs. Hot dogs. (sorry!)
Are you a hopeless romantic?
Like do I believe in love at first sight type of thing? Yes, for other people. I personally way overanalyze things to really make that possible for me. However, if the right guy wants to "love me at first sight," great. Only, it might be more romantic if he didn't like me at all and then finally come round, and fall helplessly (hopelessly?), madly in love. Only I might never forgive him for resisting my charm in the first place. I'm thinking about getting a dog….
What movie or book character can you most relate to?
I at one time in my life thought of myself as being very much an Elizabeth Bennet, sometimes since I have wondered if I'm not more like Jane. But with all the snow around here, maybe I'm more like Mrs. Claus.

Do tell me, is this one of those parties where I talked to much?
Love,
T.W.
(P.S. If you want to join, click on the "green spring" link and check it out!)